Telecommuters don't wear pants on video conferences
Get used to it. Increasing numbers of employees, free agents, independent consultants, and even corporate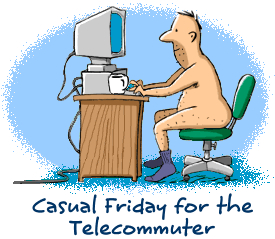 managers will be working from home offices in the very near future. Most homes built today include a home office with all the connectivity that allows workers to be as productive (actually, more productive) than if they were at a cubicle-infested corporate office.
The Telework Research Network (TRN) reports:
Forty-five percent of the U.S. workforce holds a job that is compatible with at least part-time telework.
Based on current trends, with no growth acceleration, regular telecommuters will total 4.9 million by 2016, a 69% increase from the current level but well below other forecasts.
The biggest barrier to telecommuting, by a wide margin, is management fear and mistrust.
We really need to work on that fear and mistrust issue. Based on The People Group's research (wink, wink), below are some beliefs these distrusting managers have about telecommuting employees:
1. Pajamas are their primary work uniform.
2. Rather than pants, telecommuters only wear underwear with their dress shirt on video conferences.
3. The movie theater is their break room.
4. They workout and tan all day at Gold's Gym.
5. Telecommuters talk to their dogs and cats to maintain their sanity.  However, the survey group believed most telecommuters are cat people.
6. The hot tub is where they make phone calls.
7. Unpaid interns do all their work while the telecommuter plays golf.
8. The "4-Hour Work-Week" is their favorite book.
9. People work from home because they are under house arrest.
10. Managers agree telecommuters are more productive away from the office.  However, managers who prefer face-time over results prefer telecommuters to work at the office.
Hope this list was fun for you. I think it points out some of the areas of fear and mistrust we need to eliminate in the workplace.