Finding Careers at Great Workplaces
During the recruiting process, Mr. Iam Screwed was given an impressive tour of eVille Unlimited's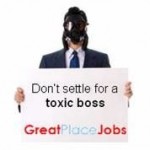 headquarters, and he was absolutely ecstatic.  A dream job come true, eVille Unlimited had highly recruited Mr. Iam Screwed.
As he toured the extensive headquarters facilities, their professional employees were friendly, helpful and

motivated. Plus, the campus included all the latest perks, including a gym, spa, doctor's office and hair stylist, dry cleaners, restaurants and concierge services, just to name a few.  His potential new boss, Ms. Dee Generate was smart, open, cordial and answered all his questions with utmost patience.  He accepted their generous job offer later that week.
Leaving a very good job, Mr. Iam Screwed showed up two weeks later for his first day at corporate paradise, eVille Unlimited's headquarters, only to find the workplace in shambles.  The environment was chaotic and cluttered with employees yelling at each other, and many of the elaborate on-site perks closed.  As he approached the receptionist, who now had the appearance of the ghost in The Grudge, a terrible, sickening feeling was oozing all over him.  When Ms. Dee Generate, his new boss, appeared in a red pant suit with a pitchfork and horns protruding from her forehead, he realized he had made the biggest mistake of his life.
Changing jobs should not be so scary.
Seriously, remember what it was like to change jobs and begin learning the behavioral norms of the new company?  Do you recall learning the management style of your new boss?  Adjusting to the new company culture?  Discovering who possessed the real political power?  Were you a little nervous you might uncover something terrible you didn't discover during the interview process?  Like your new boss was Satan?  Or your new company was a front for Hell?
Thanks to a new career site, GreatPlaceJobs.com, unfortunate first day scenarios like the one above can be avoided because the only companies who are allowed to post jobs on this site are officially recognized great workplaces.
According to Asher Adelman, founder and president of eBossWatch.com and creator of GreatPlaceJobs.com, "Only companies that have been recognized as a great workplace and have received one of the prestigious best employer awards are eligible to list their jobs with GreatPlaceJobs.com."  To further clarify the quality of the companies on his website, Adelman stated "excellent employers are those that are successful in providing their employees with satisfying careers, a positive and pleasant work environment, and good compensation and benefits packages."
As one who promotes positive people practices through the many services provided by The People Group, I highly recommend employers who qualify and employees who would like to work for the best companies, visit the site and sign up for their services.  My congratulations to Asher Adelman and his team!  Keep up the great work!