People Strategy Missing Component in Most Business Plans
While attending a Great Place to Work Institute annual conference an organizational consultant told the story of a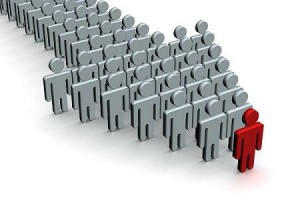 client who prominently displayed posters throughout their offices with the message, "Our valued employees are always treated with trust and respect."   Yet the consultant noticed employees underwent exhaustive and intrusive security searches when entering and exiting the offices each day.  It was obvious the employer did not really trust their people.  The consultant observed the employees were quite uncomfortable with the invasive nature of the security process.
Considered a highly unusual practice for a civilian organization with very little security concerns, the consultant questioned the leaders about the conflicting message of "trust and respect" while employees were subjected to daily body searches. The organization stopped the security searches.
Avoid Conflicting Messages
In this case, the leaders were oblivious to the conflicting message of building trust and the ongoing practice of their security measures. That's why business leaders should carefully consider the environment they want to create for their employees.  A well planned and executed people strategy will help you avoid these big, hairy contradictory messages that create barriers between employees and management.
Since corporate culture flows down from the top, determine in advance what message you want your employees to receive through your leadership team's actions.
People Strategy is Mission Critical

When preparing your business plan, seriously consider the people strategy component of your enterprise.  People strategy is as important as your marketing strategy or finance statements. Many CEO's will boast in their annual reports, "Our people are our most important asset" because that is what a CEO is expected to say in print or on camera.  But in reality do most CEO's develop a Great Workplace strategy where employees are treated as whole persons and where leaders are measured on their soft skills? Based on the vast numbers of unhappy, unfulfilled, disengaged and burnt out American workers across this great nation, my educated guess is a resounding "no!"
A business owner should seriously consider their written and unwritten people strategies and make room for this subject in their business plan, whether you have ten or ten-thousand employees.  Even solo-practitioners rely on other people, including business associates, partners, affiliates, vendors, and other professionals, to accomplish their goals.  A well-developed people strategy is critically important to any businesses long-term viability.
Most Successful People Like People
First of all, it helps if you like people. To some leaders, overseeing people is like dealing with the IRS: they avoid them at all cost.  I cannot count the times leaders have told me they hate dealing with people issues.  However, many leaders allow the people component of their business to be formulated by chance.  It is difficult to succeed in business if you don't like people.  It is not a good idea to outsource your people function to uncaring, unattached outsiders.  Even if you outsource merely the transaction components of human resource management, a leader cannot outsource the employee relations component without disastrous consequences.
If business leaders are not involved in corporate life, the company's culture becomes a process of evolution, mutation, and happenstance in an uncaring environment.  These are great ingredients for stirring up a prison riot, but not such a great way to develop a great working environment.
Sometimes the temptation is to ignore people problems altogether and hope the problems magically disappear.  However, poor decision-making, or lack of decision-making, can lead to a toxic work environment and a multitude of people issues.
Positive People Practice Questions
When developing or evaluating your business plan, ask and answer the following Positive People Practice (also known as P3) questions when creating a People Strategy section in your business plan:
Company Culture – Every company has one and no two are alike.  What type company culture do you want for your enterprise?  The culture will typically mirror the personality of a strong leader or CEO. It is good to establish in writing the foundation of the company's personality.
Flexibility – How flexible will your company be with employees?  Will you automatically say "no" to reasonable requests or seriously consider and evaluate employee requests for work/life flexibility?  Flexible employers are known to be more productive and profitable.
Results Only – Are you prepared to base employee performance on results rather than the outdated practices of brown-nosing and face time?
How Results Happen – How results happen are as important as the results. Will employees and leaders be accountable for their behavior in getting work accomplished?  Make sure results at any cost is not condoned by your leadership.
Telecommuting – Will employees have the flexibility to work away from the office as long as they get their work done on time and with the quality expected? Today's technological advances have made telecommuting a practical solution for a number of positions.
Recruiting by Cultural Fit – Will you carefully screen each new hire to determine if they will live and work according to your company culture? Potential new leaders should also be subjected to a culture fit analysis since this is where many problems crop up.
Dress Code – How are employees expected to dress for work? Business, business casual, casual, beach attire? Make sure leaders dress like your employees too.  Opportunity seeking leaders will be tempted to dress up in a dress down environment to gain a psychological advantage over other employees.
Corporate Values – What are the values and guiding principles of your organization?  These guidelines communicate a great message to job applicants and help existing employees and leaders make decisions when faced with difficult circumstances?
Code of Conduct – How are employees and leaders expected to act during the work week?  What is considered acceptable or unacceptable behavior? Is business ethics taken seriously?
Jerk-Free Workplace – Will you consider instituting an anti-bullying and jerk-free workplace policy where workplace terrorists are terminated after one official warning? Unfortunately the incivility of our society is creeping into the workplace and business leaders need to stop hiring jerks at work.
Seriously consider these people strategy issues when developing your business plan and your chances of outlasting, outperforming and outmaneuvering the competition will increase exponentially.