PRESS RELEASE – A Tulsa Company Is Eliminating Jerks/Stress in the Workplace

FOR IMMEDIATE RELEASE
A TULSA COMPANY IS ELIMINATING JERKS/STRESS IN THE WORKPLACE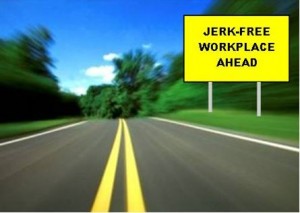 TULSA, OKLA. (June 2009) — As Road Science, LLC™ embarks on its new beginning in the road paving industry, the company has become an early adopter of the "Jerk-Free Workplace" with the help of The People Group, LLC, a Tulsa company specializing in positive people practices consulting. Adopting this policy adds Road Science to a short list of only 15 companies in the United States, and the first in Tulsa, who have made a commitment to establishing a jerk-free and bully-free work environment.

According to the employee experience brochure, "Road Science is committed to providing all Team Members a healthy and safe work environment," and labels bullish behavior as "unacceptable, because it breaches principles of equality and fairness." Kevin Kennemer, founder and partner of The People Group, holds a passionate view on the importance of operating a workplace free of incivility and bullying. Kennemer said, "jerks can be high performers, but create problems. By Road Science adopting an intolerance to bullying, it will prevent harmful workplace issues, and allow the company to provide, undoubtedly, the best work environment in Tulsa."
In addition to providing a positive work environment, The People Group and Road Science hope to prevent health-harming issues that are a product of continuous psychological mistreatment and result from being subjected to bullying. Stress-related illnesses can cause employees to withdraw from their peers, friends and family, and can also cause performance on the job to suffer, ultimately, leading to a negative impact on the entire organization.
Brian Majeska, Chief Operating Officer at Road Science, commented, "our management team believes that extraordinary businesses care about three people: the teammate, the customer, the owner. Today, one of our primary focuses is the teammate; each other. Any success we achieve in the future will be based on the environment we are creating today; an ethical environment of trust, belief, collaboration and innovation.
Through this partnership, The People Group is able to provide positive people practice strategies to Road Science in order to attract and retain the best talent through innovative compensation and benefits, as well as a revolutionary, healthy and attractive work environment.
For more information about enacting a Jerk-Free and Bully-Free work environment, please contact The People Group at 888.797.9992.
Road Science, LLC is the leading technology company for the road paving industry. The company focuses on developing long-term business relationships with contractors, manufacturers and agencies. With a team of nearly 100 professionals, Road Science specializes in differentiated products and services for contractors and asphalt manufacturers, as well as assists agencies in creating greater value by protecting and re-using pavements.
The People Group, LLC was founded on the premise that positive people practices are primarily the missing component of average performing companies. Founder Kevin Kennemer, a Tulsa, Okla., native, has twenty years of valuable people practices experience and was formerly the chief human resource officer of an international energy company that rose from obscurity to #5 on Forbes list of largest privately help companies, and was known for their great work environment.

Media Contacts:
Amy Chiconas
Road Science, LLC
Office 918.524.7100
achiconas@roadsciencellc.com
Kevin Kennemer
The People Group, LLC
Office 888.797.9992
kevin@thepeoplegroupllc.com