America's Worst Bosses List for 2010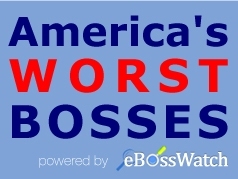 eBossWatch, an organization that helps people avoid toxic workplaces by allowing employees to anonymously rate their supervisors, recently announced its America's Worst Bosses List for 2010.  If  you take a few minutes to read some of the fifty "winners" you will find the true stories quite disgusting.
One of the biggest questions that comes to my mind is: "Where are the leaders of these organizations?"  Evidently they look the other way in many cases or plead ignorance. I suspect the perpetrators of these uncivilized, inhumane, unethical and often, illegal acts, are politically connected, evil geniuses, the Alpha Male/Female, or simply the boss who injects fear in their toxic workplaces. Fear causes inaction in most organizations.
Is this a negative approach to creating a great workplace? As human beings we need to learn from our mistakes. It is my hope business leaders will read about this dubious list of characters and decide it is time to create a workplace culture built on trust, dignity and respect.  eBossWatch's founder, Asher Adelman, is simply shining the light on bad workplace behavior so we can learn and initiate change.
Press Release: eBossWatch Publishes 2010 List of America's Worst Bosses
Dallas Morning News: Website Names Dallas Fire-Rescue Chief Eddie Burns Worst Boss in America
Graphic Image Credit: eBosswatch.com