Great Workplaces Thriving in Economic Recession
Although it has been tough for most companies in this economic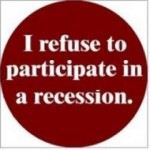 recession, a new study reports Great Workplaces have performed better, with revenue and stock prices to the avoidance of the dreaded layoff and its terrible consequences. Our good friend Asher Adelman, Founder of GreatPlaceJobs.com, said their recent study "shows that even though top-ranked employers have suffered through the current recession, their revenue levels and stock prices are still in better shape than their competitors." He also stated "the general sample of companies laid off employees almost twice as often as the excellent employers.  A shocking 86% of the Fortune 100 largest companies have laid off workers since the recession started in early 2008," stated Adelman.
Let's revisit the proven reasons Great Workplaces survive in a rough economy, which I shared with you last September.
The people inside Great Workplaces make the difference because their company truly cares for them by creating a sustainable, flourishing culture.  As a result, a majority of their energized employees are engaged and running on all cylinders. The benefits of creating a Great Workplace are numerous.  As chairman of the board, CEO, business owner or start-up entrepreneur, the proven benefits of building a Great Workplace will likely make your company a powerful force even in the most difficult of times.  Why? The benefits of creating a Great Workplace have been researched and proven by the Great Place to Work Institute:

Higher productivity
Higher profitability
Better customer satisfaction
Lower staff turnover rates
Greater number of applicants for open positions
Attraction of the best and brightest talent
Less resistance to change
Lower health care costs
Lower workers' compensation costs
Lower absenteeism rates
Lower presenteeism rates
Higher levels of cooperation
Higher quality products and services
Increased innovation and risk taking
Higher returns to stockholders

When you build a winning team with a great work environment, employees will take care of business during both good and bad times. It is a winning formula for building a long-term, growing and profitable organization.
So how can you better insure your company against the doom and gloom of the latest economic recession? Become a Great Workplace. You will not only attract the top talent your industry has to offer, but you will also keep that talent by developing a positive work environment designed for the success of your employees.
Go here to read the rest of the GreatPlaceJobs employment study on why Great Workplaces are outperforming their competitors in the recession.
To get more information, or to develop strategies for turning your company into a Great Workplace, contact Kevin Kennemer with The People Group at 888.797.9992 Ext 1, or by e-mailing kevin@thepeoplegroupllc.com.