Worst Bosses of 2009 Announced by eBossWatch
Asher Adelman, Founder of eBossWatch, started his company to help people avoid hostile workplaces.  Adelman has undertaken an important and surmounting mission.  Unfortunately, there is a great deal of work yet to be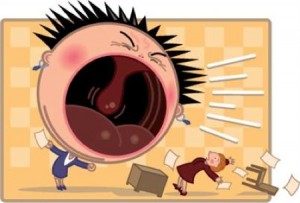 done.  In other words, there is plenty of work for consultants like us who are working to create a nicer workplace.   While serving as one of the panelists who selected and ranked the 25 Worst Bosses of 2009, I read some horrifying accounts of just how toxic the workplace can be.  It's a jungle out there!  We have included the eBossWatch press release below.
The eBossWatch Worst Bosses of 2009
December 7, 2009 — In the first ever contest of its kind, eBossWatch assembled a panel of workplace experts who selected and ranked the 25 Worst Bosses of 2009 from across the country and abroad.  eBossWatch is a career resource that helps job seekers evaluate managers and potential employers.
The Worst Bosses of 2009 include a coroner, the former NASA inspector general, an NFL head coach, and a candidate running for US Congress.
The eBossWatch highly regarded panel of workplace experts includes:
Here are a few of the managers who made The eBossWatch Worst Bosses of 2009 list:
Alan Parks, manager, US Army Warren Arsenal, Warren, Michigan
Sued for workplace bullying and disability discrimination by a former soldier who received a Purple Heart and who lost his hand and suffered other serious injuries in an explosion while serving in Iraq.
Sean Benton, water distribution superintendent, City of Monroe, Monroe, Louisiana
Benton's employees recorded a four hour meeting that took place late last year where Benton used hundreds of obscenities and ordered one of the supervisors to physically attack an equipment operator.
Mike Swindle, supervisor, Hyundai Motor Manufacturing Alabama, Montgomery, Alabama
A federal jury found Swindle guilty of sexually harassing a subordinate, making lewd comments to her for about five months, and pressing his body against her while propositioning her on at least one occasion.  Other supervisors who the victim complained to either ignored her or harassed her themselves.
Philip Meeson, CEO, Jet2.com, Leeds, United Kingdom
Received a warning from Manchester Airport Police after publicly screaming at his own employees in front of hundreds of customers lined up at the airline's check-in counter, ignoring a sign that warned passengers: "Abusive behavior towards staff will not be tolerated."
Asher Adelman, founder of eBossWatch, said, "It is shocking to think that such horrific experiences still occur in the American workplace.  Nobody deserves to be subjected to a hostile work environment.  This contest demonstrates how important it is for job seekers to Google potential bosses and to research potential employers on sites like eBossWatch."
The entire eBossWatch Worst Bosses of 2009 list is available at eBossWatch.com.
About eBossWatch
eBossWatch was launched in 2007 to help people avoid hostile workplaces.  eBossWatch is a popular career resource that enables people to rate their bosses in a professional and non-libelous manner so that job-seekers can evaluate prospective employers and avoid workplace bullies.
eBossWatch has been featured in many media outlets, including ABCNews.com, Fox News, Forbes, TheStreet.com, Chicago Tribune, Los Angeles Times, New York Post, Houston Chronicle, Seattle Times, San Francisco Chronicle, and The Orange County Register.
More information about eBossWatch can be accessed at www.ebosswatch.com.
Media Contact:
Asher Adelman
Founder
eBossWatch
contact@ebosswatch.com
______________________________________________
Graphic Credit:  Graphic obtained from The Smarter Wallet