How to Live a Jerk-Free Life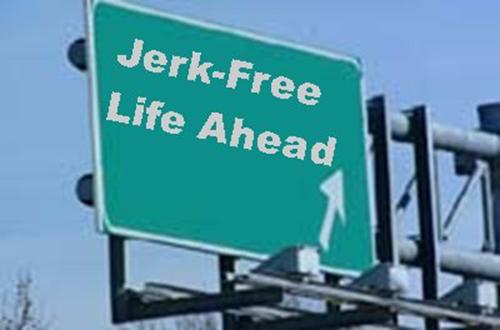 Every time I would leave town on business my toxic boss would call me with a problem. It was as if he waited for my plane to take off from Tulsa International Airport to begin snooping for or manufacturing problems. One time he called me while I was in Boston complaining an IT employee was wearing tennis shoes on jeans day.  Unaware tennis shoes were a problem on jeans day, I went ahead and politely asked for the employee's name.  But he refused to tell me the employee's name.  He said I should know about these things already. This jerk was playing games with me. The phone conversation went downhill from there.
Toxic people are simply impossible. They waste time, energy, emotions, and ultimately, the company's money. I prefer not to work with them and definitely not for them. I have declared a moratorium on jerks in my life. Jerks are hazardous to my health.
So how do you live a life completely free of jerks? This is likely an impossible, yet worthwhile life mission. We know that civil behavior and positive work environments create the best, most productive and profitable companies. Jerks cost money – lots of it – yet they still manage to live and work among us every day.
Unnecessary conflict is going to happen. Inevitably, you will arrive at work one day and an uptight coworker, Type A supervisor or Alpha male executive is going to act like a complete jerk. Although we are all capable of jerk-like behavior, this discussion is reserved for the certifiable jerks who operate in toxic mode 24/7.
These pesky creatures have been with us since the beginning.  When God created Adam and Eve and placed them in a beautiful garden – there was a jerk – a slimy snake slithering around the vegetation.  The deceitful actions of a jerk (Mr. Snake), posing as a wise counselor, screwed up our entire existence.
Nonetheless, here are some jerk-free living strategies:
Do you have an idea for jerk-free living?
M9TJDZNHFXNC