Musical Chairs May be Coming to a Job Market Near You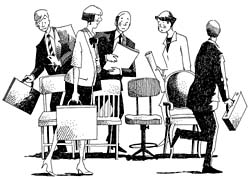 Many workplace experts are predicting a large wave of job hopping in the employment market if the economy improves.
David Yamada, tenured Professor of Law and Director of The New Workplace Institute at Suffolk University Law School in Boston, and a valued friend of The People Group, says "The terrible economy has forced people to stay in jobs in which they are not happy."
Yamada points to a Workplace Bullying Institute Study (link here) that indicates during this difficult economic period, "workers have had to tolerate bad, even abusive, working conditions for lack of other choices." His recent blog post "Will an improving job market lead to a rush of departures by unhappy workers?" is an excellent resource for those who could be affected by a job-swapping employment market (link here).
Head hunters are going to love what's coming.
Once a few sharp but disgruntled employees start making their move, the dominoes will begin to fall. It could be like a massive cruise ship that hits an unexpected, powerful wave; if it's not screwed to the floor, wall or ceiling, stuff and people are going everywhere. That big wave could be headed your way.
On a positive note, company leaders who have invested the time and resources to create a positive work experience and a great place to work have shown to be much more immune to costly employee turnover.