Destroy your competition with a positive culture
Michael Burchell on Culture and Competitive Advantage from GMMBDigital on Vimeo.
Competitive advantage comes from your people and the work environment you create for them, according to Michael Burchell, a global thought leader on workplace strategy and co-author of The Great Workplace.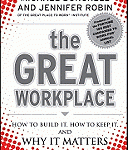 Are you working on developing a positive company culture built on trust and respect?  Although you cannot copy the culture of other successful companies, you can learn valuable lessons from the current Best Company's to Work for in America.
Your company culture can be your organization's competitive advantage — if you put people first.  It is ironic – you can destroy your competition with a positive company culture.