America's Worst Bosses 2011 have cost their employers over $145 million
LAS VEGAS, Dec. 19, 2011 – eBossWatch, the leading career resource that enables people to anonymously rate their bosses and evaluate potential employers, today published the third annual list of Americas Worst Bosses.
This year's worst bosses include a famous actor, a movie producer, a Fortune 500 CEO, two US Navy officers, two doctors, two judges, two district attorneys, three police chiefs, a US Congressman, a US Senator, and a US Ambassador.
An eBossWatch panel of workplace experts selected and ranked the worst bosses from across the country.  To date, the 2011 America's Worst Bosses have cost their employers over $145 million in monetary damages and lawsuit settlement payments.
"We continue to be shocked and outraged by the egregious harassment and discrimination that happens in far too many American workplaces," said Asher Adelman, founder of eBossWatch. "The America's Worst Bosses list sends a clear warning to would-be toxic managers: abusive behavior towards one's employees and coworkers will not go unpunished."
The states with the most worst bosses are: California (19), Florida (8), New York (6), New Jersey (6), and Wisconsin (5).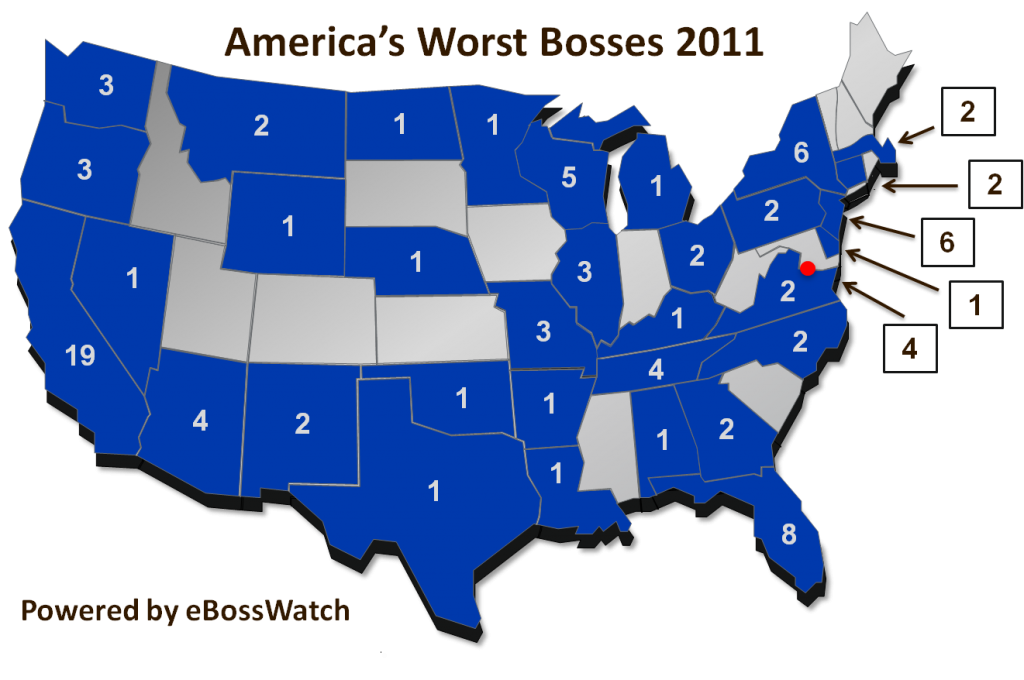 The entire list of America's Worst Bosses 2011 is located at http://ebosswatch.com/americas-worst-bosses-2011.php.
About eBossWatch
Founded in 2007, eBossWatch is a popular career resource that helps people evaluate potential employers and avoid hostile workplaces. eBossWatch enables people to anonymously rate their bosses in a professional and non-libelous manner. eBossWatch is also the publisher of the National Sexual Harassment Registry and the annual America's Worst Bosses list.
eBossWatch has been featured or mentioned extensively in the media, including on ABCNews.com, Fox News, Forbes.com, BusinessWeek.com, Fast Company, AOL, BNET, American Bar Association Journal, Monster.com, Workforce Management Magazine, New York Post, TheStreet.com, Chicago Tribune, Orange County Register, Boston Herald, Houston Chronicle, Seattle Times, San Francisco Chronicle, Star-Ledger, Miami Herald, and the Toronto Globe & Mail.
For more information, go to www.ebosswatch.com or email us at contact(at)ebosswatch(dot)com.