Tell the truth and get screwed
Telling the truth can be very costly to your career. That is why people are afraid to open a can of worms in corporate America. Everyday employees across America observe or are intimidated to perform unethical acts. But most of us are too afraid to say anything because we might lose our jobs, retirement, then our house, car, boat, beach condo,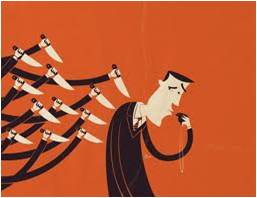 Caribbean vacations, and finally, the golf clubs.
Is it better to keep our head down, with mouths shut, and deal with an unrelenting conscious, high blood pressure and stress?  At least we keep our job, right?
Below are some quick statistics from the 2011 National Business Ethics Survey:
13% of employees are feeling pressure to compromise their standards, an increase of 56% since 2009.
45% of U.S. workers have observed misconduct. That is 62 million Americans.
65% of those who witnessed wrong doing reported the misconduct. That is nearly 41 million Americans.
22% experienced some kind of retaliation.  That is 9 million Americans.
Retaliation against employee whistle blowers rose sharply.
The NBES survey also uncovered that companies with weak ethical cultures also climbed to near record levels.
I suspect with the quantum growth of social media, it will continue to be easier to report unethical or illegal behavior in Corporate America. Could this be why so many corporations have turned off Twitter and Facebook at work?
In a web 2.0 world, unethical or illegal acts can travel around the world within seconds. Companies can no longer afford to keep top performers who are as ethical as a used car salesman addicted to crack being paid 100% commission.
Sadly, just like we can feel a severe thunder storm headed our way here in Oklahoma, I am sensing more big corporations will soon fall as a result of weak corporate cultures.
Download the 2011 National Business Ethics Survey
To download the 2011 National Business Ethics Survey provided by the Ethics Resource Center, click here.