Detoxing from Corporate America
A Note To CEO's, Executives and Leaders in Corporate America – Don't follow the examples in this blog post. Be a game changer by achieving the Best Place to Work designation. Your organization will attract the best and brightest talent like a powerful magnetic force. A Best Place to Work is good for companies, good for employees and their families, good for suppliers, and good for your community.
________________________________________________________________
I know a man who detoxed from an addictive behavior. He had to come down from the out-dated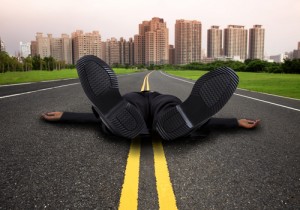 promise Corporate America had been giving him for years – they had his back. So he kept his daily habit of driving to work every day.  He was hooked like a mouse on peanut butter. That habit never ends well.
In the end it was a battle and the company won — he lost. After years of struggle, there was no more fight remaining in him to navigate through the political mire that prevented important people issues from implementation.
After spending twenty-five years in the corporate jungles of America, he raised the white flag of surrender.
His attainment of big benefits, perks, retirement plans, non-qualified executive programs, nice cars and private jet travel were not as important as his health, family and enjoyment of living.
That man (was) me. After working with and for jerks, weasels, narcissists, two-headed snakes, bossholes, and many other toxic corporate psychopaths, I found corporate life to be a dead-end with many empty promises.
The only people I ever observed receiving large payouts were the top three or four executives at each organization, while many experienced employees struggled to reach midpoint of their pay range.
Organizational Culture Shock
After completing my undergraduate business degree as a young man, I was excited about my future in business. There was this expectation for people to be as nice and cordial as they were when I worked as a college intern for a local energy company. In addition, our family was free of drama and we treated each other respectfully so I somewhat naively expected people in business to play nice. When I took my first corporate job, I quickly realized I was terribly mistaken.
In the mid-1980's, ethics, morals and civility were not high on the priority list. Making money at any cost was the predominant culture I observed.
Working in a Leadership Vacuum
Not every manager I worked for was a bosshole. Just most of them. The others who weren't bossholes just didn't know what they were doing. Then there were a few good leaders. It is a sad commentary on America.
Learning Honesty, Work Ethic and Dependability
Raised in a family where dad was known in the community as a very kind and honest man, at home he didn't talk very much and showed little emotion, except during OU Sooner football games and fishing (when the fish were biting). Otherwise, our house was fairly quiet.
More importantly, my dad instilled in me the qualities of honesty, doing a good job, being dependable and respecting those in authority over you.
Paying the Price for Being Honest
Honesty, an excellent characteristic, can be very devastating when you work for a dishonest bosshole.  There was the world at home where I was taught to be respectful and honest, and there was the business world where jerks could yell and scream to get your way.
During the course of my career, I have been yelled at, cursed at, disciplined in front of my peers, demoted without cause while on a business trip (and the last one in the department to find out), spied on by a person on behalf of a psychopathic VP, merged into one HR group once and divided into two HR groups twice at the same company, plus many other ill-conceived strategies that further screwed-up the company culture.
The Executive Life Shaped My Future
As a CHRO of an energy firm I was promised a great deal in benefits and compensation that never came to fruition while the owners paid themselves millions in bonuses and most of the remaining officers very little in comparison.  Although I developed some great working relationships with several division presidents, there was one man who despised my existence. He was the most difficult man I have ever met who was also full of hatred, a foul mouth, lacked ethics, and bordered on evil.
In January 2009 I began the process of detoxing from corporate life and decided to start my own company to help clients create Best Places to Work based trust and respect.  I wanted to take the toxic encounters of my career and turn them into a positive experience by helping company leadership learn how to create Best Places to Work.
A Humbled Professional
Through this difficult times during and after corporate life, I have become a very humbled man. You may have identified with some of my story. And while I would never want to experience these toxic moments again,  they taught me some very valuable lessons that come through when I meet with CEO's, and speak to groups of leaders and employees.
This humbled man is now on a mission. I would rather have a mission than a career anyway.
Graphic Credit: Detox Corporate America (man on highway) from The Grindstone