2017 List of Great Place to Work Lists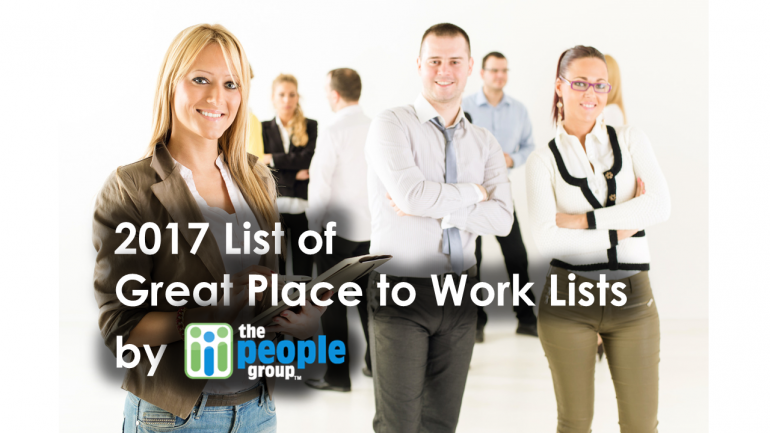 If you are looking for the definitive list of great place to work lists, this blog post is for you.
The People Group's 2017 List of Great Place to Work Lists has compiled all relevant great workplace award and certification programs. If you are looking for a new job at a great organization where leaders treat employees in a respectful manner, this is your one source for researching and landing your next gig. If you are an organizational executive and want to begin your journey to an award-winning great workplace, this is a great place to start.
Don't search for the PERFECT JOB at an AVERAGE COMPANY.
Search for the PERFECT JOB at a GREAT COMPANY.
Not all great place to work lists are comprised of great workplaces. Not all lists are created equal. When talking great workplace lists, buyer (or interviewee) beware. This list, however, is comprised of those programs based on reputable, scientific and investigative methodologies. In other words, the programs below are not popularity-based, online poling systems that can be easily hacked or manipulated.
Congratulations to the following programs for making the work world a much better place. (Listed in alpha order. Descriptions have been gleaned from their respective websites.)
---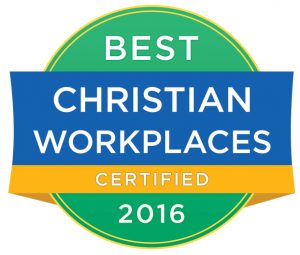 The Best Christian Workplace Institute serves faith-based organizations by creating processes of discovery, facilitating organizational effectiveness, and encouraging practices that build flourishing workplaces.
---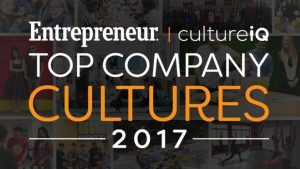 Entrepreneur Top Company Cultures
Entrepreneur has partnered with CultureIQ to find the best office cultures in America. Their program measures 10 areas that are predictive of high-performing cultures — collaboration, innovation, agility, communication, support, wellness, work environment, responsibility, performance and mission alignment — to quantify the success of the culture.
---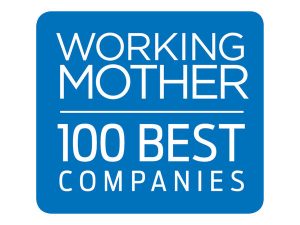 Best Companies for Working Mothers
The people at Working Mother Magazine make it clear you don't stop being a mom just because you're at work. The most talented women are looking for organizational cultures that allow all employees to flourish at home and at work. This list recognizes organizations offering a broad array of support, from flexible work and mentoring to affordable childcare and paid leave.
---

Best Companies Group manages statewide and regional Best Places to Work programs across the United States. They also recognize best companies in particular industries, including accounting, advertising, banking, call centers, healthcare, insurance, nonprofit, and many others.
---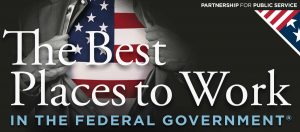 Best Places to Work in the Federal Government
The annual Best Places to Work in the Federal Government® rankings are produced by the nonprofit, nonpartisan Partnership for Public Service and Deloitte. The most recent rankings included the views of more than 421,000 civil servants from 379 federal organizations on a wide range of workplace topics.
---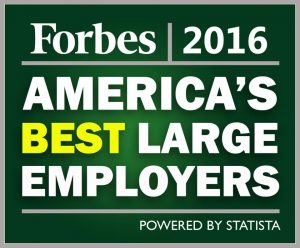 Forbes 100 America's Best Employers
Forbes surveyed 30,000 U.S. workers at companies with more than 5,000 employees. The survey asked, on a scale of 0 to 10, how likely that employee was to recommend their company to someone else. Forbes also compiles a list for medium-sized businesses.
---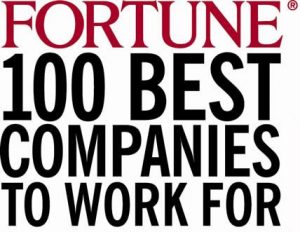 Fortune 100 Best Places to Work
Developed by the Great Place to Work Institute, this is the original list that started the great workplace movement. To identify the 100 Best Companies to Work For, each year Fortune partners with Great Place to Work Institute to conduct the most extensive employee survey in corporate America. To register for the 100 Best Companies to Work For list, which allows participation in all Best Workplaces lists, including Millennials, Women, Diversity, and over a dozen additional lists, go to greatplacetowork.com/100Best.
---

According to Gallup, their Great Workplace Award honors a select group of organizations that create an engaged workplace culture by investing time and resources to enhance the workplace experiences of their leaders, managers and front-line employees.
---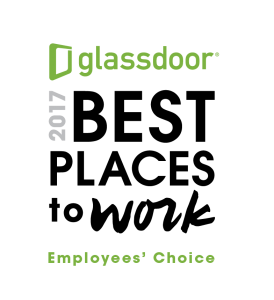 Glassdoor lists are compiled using their proprietary algorithm, and the overall ratings and rankings were determined based on the quantity, quality and consistency of reviews during the period of eligibility. As part of their algorithm, an employer's overall company rating is taken into account, combined with how employees have rated each employer's five workplace factors (career opportunities, compensation & benefits, culture & values, senior management and work/life balance), the percentage of employees who would recommend the employer to a friend, along with the employer's business outlook rating. The awards also take into account various types of employment status including full-time, part-time, contract and freelance, however, intern company reviews have been excluded.
---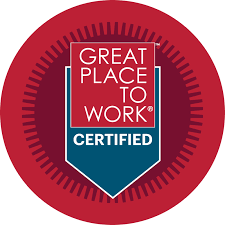 Great Place to Work Certification
As the legit recognition for awesome work cultures, the Great Place to Work® Certification Program reviews companies for a chance to be awarded their coveted certification. This certification is the best talent magnet in the world.
---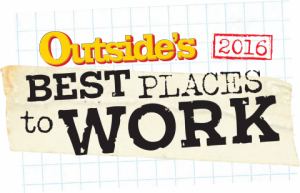 Outside's Best Places to Work is a survey competition to determine which participants are the best employers. The process is managed by Best Companies Group and winners are published by Outside magazine.
---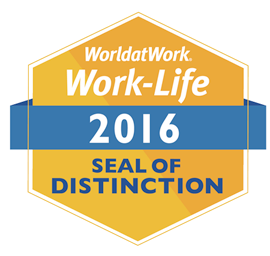 World at Work Seal of Distinction
Awarded annually to organizations providing a distinct mutually-beneficial experience to their workforces as determined by the overall strength of their total rewards portfolio and success in creating positive work environments.