Have We Lost Our Moral Compass?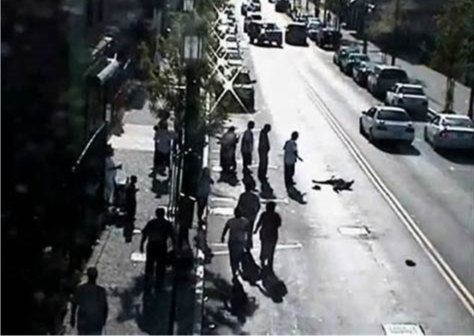 According to ABC News, a disturbing surveillance video shows an elderly, 78 year old man by the name of Angel Torres, getting hit by a speeding car, and then shockingly, being ignored by bystanders. The video, when broadcast on network news in June 2008, shocked the world — and shamed many in Hartford, Connecticut.
Totally Unbelievable
The surveillance video shows Mr. Torres being hit by a car on a crowded street. His body flies on top of the car hood, rolls up onto the windshield, and is thrust into the air by the impact of the speeding car making an illegal pass on a crowded street. What happens next is totally unbelievable. As the victim lies crumpled and bleeding in the middle of the street, no one stops to help.
People on the sidewalk nearby did nothing to help the elderly gentlemen. As Mr. Torres lay in the street, nine cars passed him without stopping. Motorists too busy to be bothered by the accident actually drive around the critically injured man, being careful not to hit him, but fail to stop and offer assistance. More than 40 seconds went by before anyone even stepped off the sidewalk to get a closer look. But no one went over to Torres' body to try to help or even divert traffic. Finally, after almost two minutes – what seemed to be an eternity – and could have been seconds between life or death, a police car responding to a different call happened upon the scene and an ambulance was called.
We No Longer Have a Moral Compass
Hartford Police Chief Daryl Roberts summed it up quite clearly as he expressed outrage in a news conference, saying "we no longer have a moral compass. It's a clear indication of what we have become when you see a man laying in the street, hit by a car, and just drive around him."
Mr. Torres' son refused to watch the video. "I can't see it," he said. "Even if you see a dog or an animal out in the street, you help them. And that hurts."
Herd Mentality
In the ABC News report, columnist Randy Cohen, who writes "The Ethicist" column for the New York Times, says a kind of herd mentality can take over during stressful situations or when someone needs help. "When you are part of a group of people and you observe someone in need, there's a crisis, it's very difficult to get the first person to act," Cohen said.
People in the neighborhood struggled to explain why no one helped a critically injured elderly man. The predominant and overarching theme and response of the citizens was "we didn't want to get involved" or "we didn't want to be labeled a snitch."
Do you have a Mr. Torres in your life?
Have you witnessed an ethics-related hit and run resulting in a victim lying helpless on the floor of desperation with few options? Have you allowed a coworker to stand alone against unethical practices, only to be dismissed as irrelevant or unrealistic? Have you observed a coworker being mistreated by a toxic boss in a hostile work environment and everyone around you was too afraid to get involved?
Does your company need someone to champion a code of conduct program for the long-term viability of your organization? Maybe you will be that first person to display a moral compass.