Guess What Day It Is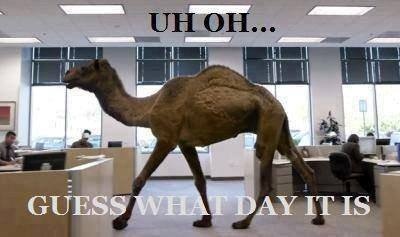 "Guess what day it is?" asks the Geico camel as he walks through a traditional office with a swagger in his step.
This was one of the most successful commercials in 2014.  (Watch here.) Why was it successful? Workers identify with calling Wednesday "hump day." The advertising idea of having a camel with a big hump ask the question was genius.
Is Wednesday hump day for you?
Hump day refers to climbing a hill during a tough work week so when one reaches Wednesday it is all downhill from there. Reaching the top of the hill is a relief because you can now coast down faster and easier than climbing up that wretched hill. It's a relief to reach hump day in most company cultures where you are counting the hours down to Friday at 5pm.
For most workers, it's a race to Friday when starting the workweek on Monday.
In many company cultures, it is a game of survival through Friday and Wednesday is the celebration of halftime. On Monday, Wednesday gives employees something to look forward to.  On Wednesday, everyone is looking forward to Friday.
---
During the fall, some men get through the week by having Monday Night Football to look forward to, followed by Thursday Night Football, followed by Saturday's lineup of college games and Sunday's pro games. Then it starts all over again.
---
In great places to work, however, I have often heard employees say that everyday is like Friday. The company has such a great work environment, Monday's are not dreaded on Sunday, and Wednesday's are not considered the hump on the way to Friday. When people are counting days, it is safe to say there is not a spirit of innovation, drive, teamwork or trust.
Bottom line, the commercial is funny but if your employees are looking forward to hump day every week, it is likely your company culture needs some tender loving care.