7 Bad Habits that Promote Meltdowns at Work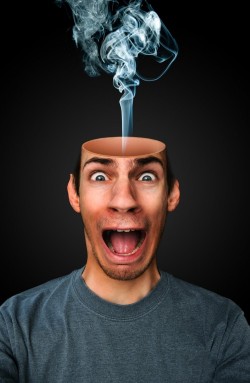 Feel like you're going to blow your top?
It's the modern day physical reaction to our fast-paced life – stress. If you desire to experience a meltdown during your career, below are seven very bad habits to follow:
#1 Avoid the Doctor.
Self-Destructive people don't have time to visit doctors because they consider themselves serious, career-minded professionals. There's no room on their calendar to wait fifteen minutes in a doctor's lobby. When they need a doctor, they watch Dr. Phil.

#2 Eat at Your Desk.
Leaving the office to socialize over lunch is a colossal waste of time. Consider the time it takes to arrive and return from the restaurant, plus the needless chatter in between about insomnia-inducing topics, including kids, Volvo's and the PTA. Here's a good rule: eat alone, work alone, and increase your blood pressure alone.
#3 Don't Use PTO.
One quick way to an office meltdown is to rarely use paid time off.  Avoiding PTO is a great way to tear your family apart, ruin important relationships, and show coworkers you have no life outside of work. You will have unlimited vacation when you retire, so what's the hurry?
#4 Avoid Sleep.
Dedicated employees do not need sleep, especially if work is waiting in your inbox? Give your Beautyrest a rest. Why sleep when you can check things off your to-do list?
#5 Drink, Eat or Snort Caffeine.
Meltdowns are fueled by large amounts of caffeine, which is needed to keep charging forward. You might make a few mistakes while your brain is sleep deprived but at least you can work 80 hours/week, which really pleases your boss.
#6 Ignore Your Spiritual Needs.
Saturdays and Sundays are good days to work while everyone else is spending time with their families, resting, meditating or going to their houses of worship.
#7 Stay Away from Nature.
The relaxing beauty of mountains, forests, streams and lakes will still be there when you retire. For now, these places are mere distractions from getting work done. Besides, black bears have killed 61 people since 1900.