The Power of Nice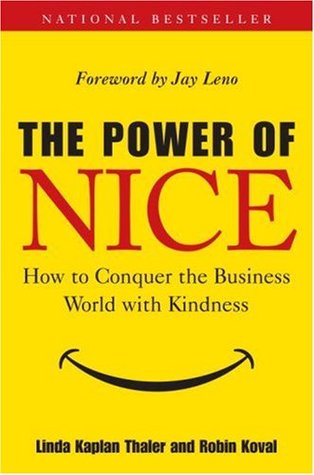 This past weekend a rough looking middle-aged woman deliberately threw a rather large plastic cup full of soda out of her car window onto a retail store parking lot as we walked by. Realizing the unkempt woman littered on purpose, my wife said to her, "you dropped your cup."  In a very hateful tone the litterbug shot back, "come over here and pick it up!"  A trash can was simply four or five steps away from the rude woman's car door but she refused to do the right thing, trashed our environment with her uncleanliness and her unsightly rudeness.
What has happened to basic courtesy? When did it become okay to simply throw your trash out the car window while driving down the highway. When did it become okay to yell, scream and curse at other drivers on the road?  This same lack of courtesy has crept into the workplace as well.
Why do some managers find it acceptable to yell or curse at employees?  Why do some organizations allow fear and intimidation to be used as a management tool? Even non-profit groups, churches and Christian organizations have not been immune to the disease of mean.
One time I observed a blustery executive respond to a subordinate who simply asked a good question, "I am not telling you again because I didn't stutter the first time," the impatient executive stated to the employee who was visibly shaken by the rude response.  How creative and innovative do you think that supervisor's employees were?
A majority of professionals will display trust, dignity and respect among subordinates, peers and leaders.  However, there are those difficult ones who create toxic work environments due to their refusal to treat people nicely.  They litter the workplace with their toxic behavioral trash. Their behavior and demeanor smells and makes people sick.
The Power of Nice is a great book written by advertising executives Linda Kaplan Thaler and Robin Koval showing "how to conquer the business world with kindness."  I highly recommend the brief 119 page book to all my clients, leaders and future leaders. We have all heard the adage "nice guys finish last." Actually, this is far from the truth.  Sure, mean managers get significant press time.  But according to the authors, "The Power of Nice shows that 'nice' companies have lower employee turnover, lower recruitment costs, and higher productivity.  Nice people live longer, are healthier, and make more money."
The authors Thaler and Koval go on to say, "companies and people with a reputation for cooperation and fair play forge the kind of relationships that lead to bigger and better opportunities, both in business and life.  But nice doesn't mean acting wimpy. In fact, nice may be the toughest four-letter word you'll ever experience," say the authors.
Building great workplaces is not complicated work. Treating employees with dignity, trust and respect is not rocket science. Being nice, respectful and caring is powerful. These qualities are not the tools of a wimpy leader.  These are the qualities of a focused and successful leader who does not need to ruin lives while climbing the corporate ladder or building a successful company.
Will you join The People Group in making a commitment to create a trusting, respectful and caring work environment where you work?  It makes sense.  It's the right thing to do.  And you will be financially better for it.